2019 Accountability Pillar Survey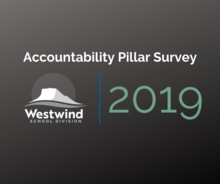 Attention parents of Grade 4, 7, and 10 students! Have you received a letter in the mail from Alberta Education recently?
Please take the time to fill out the 2019 Accountability Pillar Survey. Each year, the results of the survey help Westwind School Division measure our success and assess our progress towards meeting our learning goals. Have a say in your child's education and make your voice heard.
If you'd like to fill out the survey online CLICK HERE. You will require the random access code printed on the survey you receive in the mail.
Learn more about the Accountability Pillar and why it's important HERE.