2020/2021 School Year Information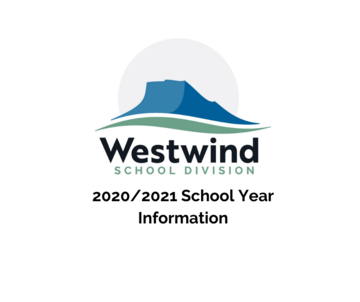 We recognize that this has been an unusual and unsettling few weeks for our school communities. While it is still unclear how long our class cancellations will last, we are choosing to look forward with optimism to our 2020/2021 school year and would like to share the following information with our Westwind families.
2020/2021 Registration
New Students
Westwind School Division will be opening registration for the 2020/2021 NEW students on April 3, 2020, at westwind.ab.ca.  New student registration is for students who will be attending Westwind schools for the first time in the Fall of 2020. This includes first-year preschool and kindergarten students, or students who have not been registered at a Westwind school in the past.
Current Students
Parents/guardians of current and returning Westwind students will receive one enrollment verification email per student during the first week of April. We ask that you please follow the instructions provided in the email carefully. 
Each email will contain a link and snap code that is unique to each student to login to the PowerSchool Enrollment (registration) site. The login information for this site will be the same as in previous years; however, if it is your first year completing online enrollment verification, you will need to create a new account.
If you do not receive an enrollment verification email by April 5, 2020, please contact your school or email registrations@westwind.ab.ca with a request and your student's name.
2020/2021 Fee Structure
Prior to September 2017, all Westwind students paid a school resource fee. In 2017 the provincial government introduced Bill 1 – An Act to Reduce School Fees that eliminated resource and transportation fees for eligible students across the province. This Bill also introduced the School Fees Reduction Grant to subsidize these dollars for school boards. In Fall 2019, Bill 1 was repealed, allowing boards to reintroduce a school resource fee, and the School Fees Reduction Grant was eliminated. As a result of these changes, at the February Board meeting, the Board made the difficult decision to reimplement a $50 per student school resource fee, beginning in the 2020/2021 school year.
Transportation Changes
Currently, Westwind School Division receives funding to provide transportation to/from school for students who reside farther than 2.4 kilometres away from their designated school. Our past practice has been to provide free transportation for all approved students, irrespective of the distance from their home to their designated school. As the number of students riding our buses has been steadily increasing, we have made the decision to implement the following changes to our transportation fees for the 2020/2021 school year, beginning in September 2020.
If your child attends his or her designated school and that school is more than 2.4 kilometres away from your home, transportation will continue to be provided to your student free of charge. 
Regardless of whether or not past approval or exception have been made, all parents of students who reside within the 2.4-kilometre boundary wishing to ride the bus must request bussing on their annual student enrollment form at the cost of $350 per student, or $1000 per family, providing the student(s) resides within school boundaries, and there is space available on the route bus with an appropriate pickup location. 
Westwind's Inclusive Education team will continue to address transportation needs based on the special needs student assessment.
We have created an infographic to illustrate this information HERE.
As you complete your children's online registration and student enrollment verification forms for the 2020/2021 school year, you will be given an option to request bussing for your child. If you have questions surrounding your distance from the school please contact Westwind Transportation.
*UPDATE April 6, 2020: Bussing requests will be considered in the order they are received. If you wish to request bussing for your student within the 2.4-kilometre boundary, please submit your request via your online registration and student enrollment verification forms as soon as possible, as space may be limited.