Superintendent Message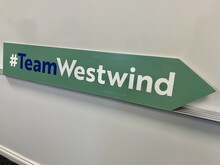 Dear Team Westwind, 
This morning, as I was driving to work, I heard a tender story on the radio that tugged on my heartstrings. It was about a man who was unable to visit his wife in a nursing home for their 67th wedding anniversary because of COVID-19 concerns. Determined to still celebrate their anniversary, he brought a sign to the nursing home that said, "I've loved you for 67 years and still do" and held it up to his wife's window so she could see it and celebrate their anniversary, too. 
This little illustration of unconditional love reminded me that even in tough situations, we can still make positive things happen.  I wanted to connect with our Westwind families and let you know where things currently stand and where our efforts are focused. Upon hearing of the government plans to cancel classes late Sunday, I immediately met with all principals, vice principals, directors and officers at our Central Office. We worked collaboratively to interpret the provincial directive and take the first steps in planning for the continued education of our students. I am so proud of this leadership group for their positive energy, their creative brainstorming, and their commitment to doing what we can to further student learning in unique circumstances. 
COVID-19 is being taken very seriously across the country and the world. The daily updates from the Alberta government, Alberta Education, and Alberta's Chief Medical Health Officer are invaluable and have given us crucial information and direction at regular intervals. Although the situation is evolving by the hour I want you to know that Westwind is committed to following all Alberta Health Services and Alberta Education directives explicitly to do our part in "flattening the curve" and slow the spread of this virus. 
I have connected daily with all of our principals. As a group, we continue to learn from each other as we discuss the struggles and successes we are encountering as we plan and prepare for course delivery.  I am excited to see our teacher's work ethic and creative talents on display as they make preparations to deliver modified lessons to students. Most of our schools will be contacting you and your children shortly to begin instruction, many as early as today. I appreciate the texts and emails from parents voicing support for Westwind with offers to help wherever needed. It means a lot. 
More than ever before, parents and caregivers are partners with our teachers in helping further the learning of our students from preschool to grade 12. I hope you see this as I do - as an incredible opportunity to spend more time with your child. I ask that significant efforts be spent on continuing to develop the reading ability of all students but especially in kindergarten and grades 1-6. We cannot take this lightly. The ability to be a confident reader is one of the foundational tools needed for all of life's successes. Your school principal will have a plan to help our youngsters continue to build this skill with your help at home. Your children's teachers have been asked to plan a way to deliver the core classes' essential outcomes to your homes. How this looks will vary from teacher to teacher and school to school. 
We hope you know that as a division we are doing everything we can to adapt to this unexpected twist to our school year.  We appreciate your patience and understanding as we learn from our mistakes, adjust and tweak plans for implementation, overcome internet and bandwidth glitches, and react as quickly as possible to issues that might be overlooked or unexpected. This will be a work in progress like none other and we are committed to making the best out of an unfortunate and unexpected interruption to our school year. 
Just like the couple of 67 years separated by obstacles created by COVID-19, I want all of you to know that Westwind has loved your students and your communities for 97 years, and we always will. We will get through this. We are resilient. We've overcome obstacles before, and we will overcome this one as well.
Stay safe, stay informed with the current directions around COVID-19, stay involved with your children, and stay positive. I'm confident that this will pass and be a distant memory and life will return to normal. It always does.
Talk with you soon. 

Darren Mazutinec
Superintendent
Westwind School Division