View All News
Alberta Government announces design funding for new Raymond High School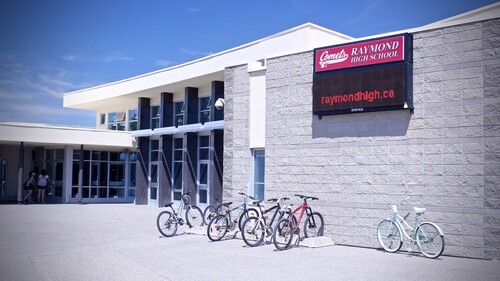 RAYMOND, AB - On March 4, 2022, the Alberta government announced funding for 15 priority school projects, including design funding for a new high school (grades 9-12) in Raymond. The primary consideration for this project is to alleviate enrollment pressures caused by an increase in the student population in all three Raymond schools. 
Westwind School Division Board and Administration were extremely pleased by the announcement. Superintendent of Schools Darren Mazutinec noted that: "We are very excited that our vision for our Raymond Schools is moving forward. Alleviating congestion, both inside and outside the buildings, has been a top priority for our division. We are grateful the government recognizes the unique needs we have in Raymond, and we look forward to working closely in partnership with the Town of Raymond on this project."  
About the new Raymond High School Project:
At the time of the last modernizations in Raymond schools in 2008, there were 780 students enrolled in RES, RJHS, and RHS. Today, there are 1100 students in grades 1-12 in Raymond, and detailed projections indicate considerable growth for the Town of Raymond in the future. Currently, Raymond schools use 22 modular spaces and have outgrown their core capabilities for shared areas such as gyms, hallways, and libraries. In addition, high volumes of daily traffic outside the schools continue to pose health and safety concerns.
In 2018, the Westwind School Division Board of Trustees identified overcrowding in the Raymond Schools as a top division priority and applied to the Alberta government to begin the process of planning for a new school to accommodate the expected growth in Raymond and best utilize the existing facilities. It is anticipated that a new Raymond High School will accommodate students in grades 9-12, converting the current RHS/RJHS school site to a middle school (Grades 5-8), and reconfigure RES as a K-4 school.
WSD Board and Administration are working closely with the Town of Raymond and looking forward to collaboratively moving forward with the project. The design phase approved by the government could take twelve months, and details specific to the project scope and timeline are not yet known. The government has not yet announced construction funding for a new school, but approval for construction funding typically follows the design phase based on previous announcements.