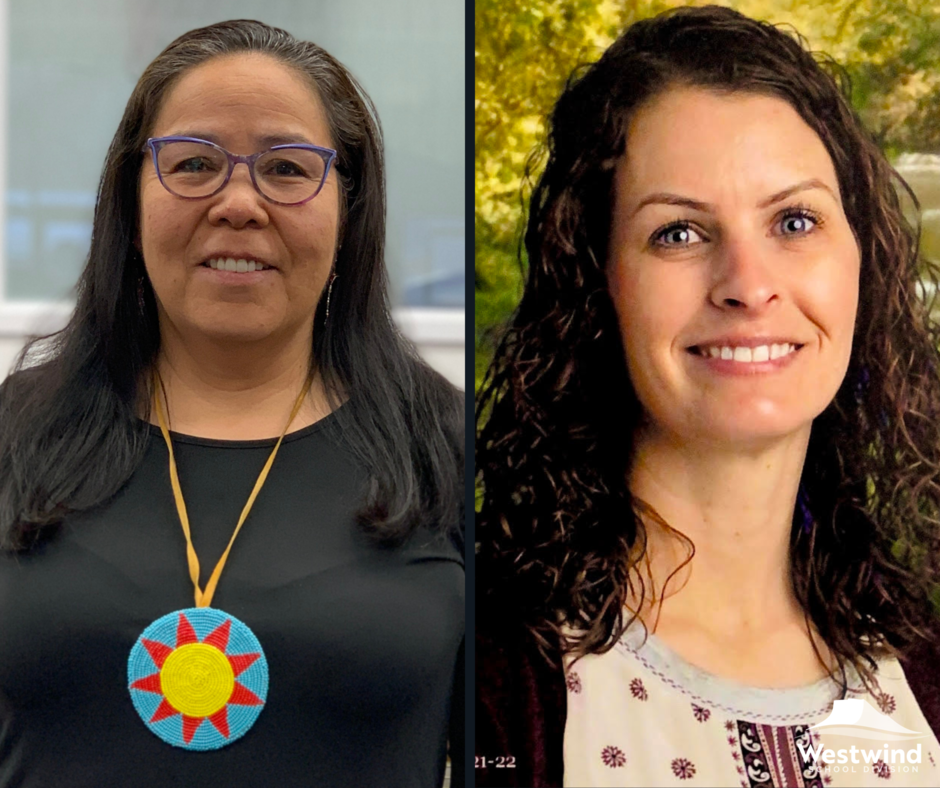 Westwind School Division is pleased to announce that Ramona Big Head and Traci Aipperspach have accepted vice-principal positions at Cardston Elementary School (CES), beginning the 2022/2023 school year. They will replace current vice-principal Terry Heaney, who will be moving to the position of Principal at Spring Glen Elementary School in the fall.
Meet our newest VP's!
Ramona Big Head
Ramona's Blackfoot name is Akaistsiiskaakii (translated as Many Sweat Lodge Woman). She is a strong, proud Kainaakii (Kainai/Blackfoot Woman), a mother of 7, a grandmother of 23, and a great-grandmother of 3.
Ms. Big Head has worked in education for over 26 years and brings a wealth of knowledge and educational leadership experience with her to CES. She has a B.A/B.Ed (1996) and M.Ed (2009) from the University of Lethbridge. For her Master's project, she wrote a play based on her research about the 1870 Baker Massacre that resulted in the death of over 200 peaceful Blackfoot individuals by the United States Army in Montana. She recently supported the creation and dedication of the Baker Massacre Monument in Cardston, which you can read more about here.
Ms. Big Head started her teaching career at Kainai High School (English and Drama). Later, in 2010, she attended UBC to work on her Ph.D. She worked as an instructor at the University of Lethbridge for two years in the Faculty of Education and worked with Alberta Education in the curriculum branch. From 2013-present time, she has been the principal of Tatsikiisaapo'p Middle School and Kainai High School, where she worked closely with her colleagues to implement innovative curriculum strategies designed to help Kainai youth find their identity while also enhancing student success.
"I am very proud to be a part of Westwind School Division at this time," says Ms. Big Head. "I am impressed with the school division that is embracing diversity. I am looking forward to being a part of CES and Team Westwind on our journey to Truth and Reconciliation, and the best way I know to a good life starts with a good education."
Fun fact about Ms. Big Head - she is a major LeBron James fan, and the first thing she plans to hang in her new CES office is a picture of "The King!"
Traci Aipperspach 
Mrs. Aipperspach began her teaching career in Great Falls, MT, before returning to her hometown of Cardston to join the CES team in 2007, and she has taught there ever since! With an academic background that includes a Masters Degree in Professional Development, School Improvement, and Change Through Collaborative Inquiry from The University of Lethbridge and a teaching degree from The University of Montana-Western, Mrs. Aipperspach is passionate about advocating for students and ensuring that they are receiving the best education possible. She has taught various grade levels and taken on many different roles in multiple capacities at CES, including various committee roles, team lead positions, and most recently, learning support teacher. She values relationships, open communication and collaboration with all stakeholders.
"I am excited to work closely with staff and parents in this role to better support all students," says Mrs. Aipperspach. "I see this as an opportunity to help individual students and directly and indirectly support generations of students to come. I know the ripple effect of education has lasting impacts. This knowledge drives me to remain devoted to continuous improvement and push through the hurdles we may encounter along the way."