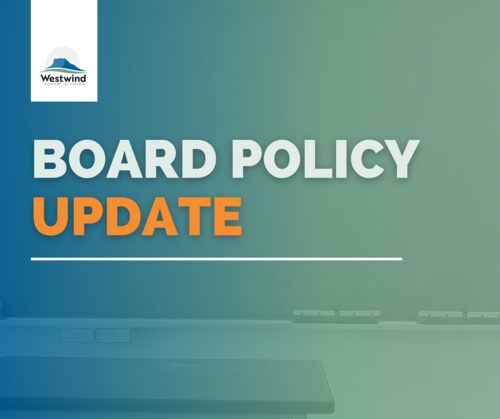 Board Policies constitute the will of the Board in determining how the Division will operate and provide effective direction and guidelines for the action of the Board, Superintendent, staff, students, electors and other agencies. Policies also serve as sources of information and guidelines to all who may be interested in or connected with the operation of the Division. Adoption of new Board policies or revision of existing policies is solely the responsibility of the Board (Board Policy 10: Policy Making)
Throughout each school year, the Westwind School Division Board of Trustees reviews each Board Policy during scheduled board meetings to ensure its contents are relevant and aligned with division practice and required legislation.
At the April Board Meeting, Trustees reviewed Board Policy 20: Communication with Parents and determined that the policy required updates to better reflect the Division's commitment to parent partnership and engagement. Trustee Jessica Payne was assigned to draft proposed changes to the policy, and those changes were presented at the May 12, 2022 meeting. The Board formally adopted the changes by motion, and the division website has been updated to include the new version of Board Policy 20.  
Review the revised Board Policy 20: PARENT COMMUNICATION, ENGAGEMENT, & PARTNERSHIP now.
ABOUT THE BOARD POLICIES AND ADMINISTRATIVE PROCEDURES HANDBOOKS
The Board Policy Handbook exists to highlight and support the essential governance function of the Board. The manual clearly defines the role of the Board, the role of the Superintendent and the delegation of authority from the Board to the Superintendent, as well as many other important policies, including: 
Foundational statements which provide guidance and direction for all activities within the District;

Directions for how the Board itself is to function and how individual trustees are to conduct themselves; how Board committees and representatives are to function;

Statements as to how appeals and hearings will be conducted;

Non-delegable matters such as policy-making and school closures; and

Specific matters which the Board has chosen not to delegate to the Superintendent.
The Board Policy Handbook is intended to be supplemented by the Administrative Procedures Manual, the primary written document by which the Superintendent directs staff. The development of two separate and distinct documents is meant to reinforce the distinction in this District between the Board's responsibility to govern and the Superintendent's executive or administrative duties.