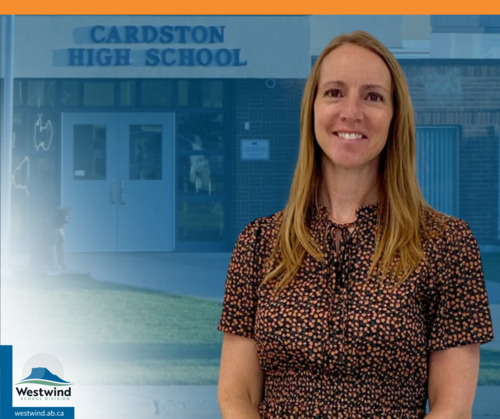 Cardston High School is excited to announce the appointment of Coralee Williams as their new vice principal. Coralee is currently an English teacher and guidance counsellor at Cardston High School and brings a wealth of experience and a deep commitment to student success and creating an inclusive learning environment. 
Coralee will be the first female administrator in the history of Cardston High School and will begin her new position in the 2023/2024 school year under the direction of Cody Toone, who was announced as the new school principal earlier this month.
"I am honoured to be joining the leadership team at Cardston High School and to have the opportunity to continue to work with such a dedicated group of educators," says Coralee.
"For me, education is all about empowering students to reach their full potential and preparing them for the challenges and opportunities that lie ahead. I look forward to continuing to serve the Cardston High School community and working with my colleagues to create a warm, inclusive, and dynamic learning environment that inspires all our students to excel."
Cody Toone, Principal of Cardston High School, says, "Coralee is a fantastic addition to our team. She has been an exceptional teacher and guidance counsellor at our school, and I am confident she will continue excelling in her new role as Vice Principal. I look forward to working with her."
Darren Mazutinec, Superintendent of Westwind School Division, added, "Coralee's enthusiasm and passion for education are contagious. She truly cares about the success of every student and goes above and beyond to support them. I can't wait to see the positive impact she'll have at CHS!"
Congratulations, Coralee!