Cardston Lions Club supports the CHS Band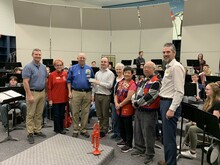 The Cardston Lions Club is committed to bettering their community, and their most recent donation proves it.
Earlier this month, several members of the Cardston Lions Club visited Cardston High School (CHS) to present a $2,500 cheque to the band program. The donation will help the program purchase a new sound shell, a tool that transforms large areas (such as school gymnasiums) into performance-friendly spaces. The sound shell works by allowing music to be gathered and projected forward towards the audience while also making it easier for students to hear each other while performing.

Mr. Barrett Swendson, CHS band director, had been hoping to purchase a sound shell since he first began teaching at Westwind last year. The CHS band has been working to raise money for the purchase for several months, and this generous donation from the Cardston Lions Club finally allowed them to place the order.
Cardston Lions Club Treasurer, Andy Strang, is grateful that his organization was able to support these budding musicians. He and his wife had six children who participated in the CHS the band in the past. "The Lions Club has been serving the community since 1941," he explained. "Our purpose is to give back and serve the community, and this was a great opportunity to do so."
The CHS band is looking forward to performing with their new sound shell. "We are so grateful for the Lions Club and this donation to the band," says Mr. Swendson. "It means so much to us to have a community organization that recognizes the value of music in student education enough to help us sound our best. We know this shell will make our performances an even better experience for our students as well as the audience."
The Cardston Lions Club is a branch of Lions Clubs International (LCI), an international service organization established in 1917. The Lions Club is dedicated to bettering communities, building relationships, and improving the world through kindness. There are currently 1.4 million Lions Club members worldwide.