View All News
Celebrating the Achievements of FNMI Students at Cardston High School's Honour Night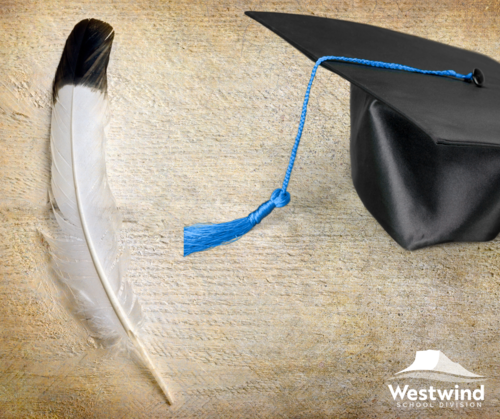 At Cardston High School (CHS), a remarkable event takes place each year to honour and celebrate the accomplishments of First Nations, Metis, and Inuit (FNMI) students in their educational journeys. The FNMI Honour Night serves as a platform to recognize these students' outstanding achievements and significant contributions. We are delighted to announce that Elle-Maija Tailfeathers, an acclaimed actress and filmmaker from the Kainai First Nation, will be this year's keynote speaker. Elle-Maija Tailfeathers, known for her work in movies like "The Meaning of Empathy," as well as notable series such as "Three Pines" and "Night Raiders," brings inspiration and creativity to the event.
CHS has celebrated FNMI Honour Night for over two decades. The event holds special meaning for Garry and Chris Fox, Family-School Liaison Counsellors at CHS, who have not only been involved in organizing the event but have also attended it with their own six children.
"Our students have worked hard and excelled in many areas, and Honour Night is an opportunity to recognize their achievements and accomplishments," Garry explains.
"Extended families are an essential part of FNMI culture," adds Chris. "This year, the Honour Night will recognize students, and we look forward to creating an opportunity for them to celebrate both their heritage and accomplishments with their loved ones. That's what makes this evening so valuable."
The FNMI Honour Night is a captivating evening filled with traditions and heartfelt recognition. The event features awards, inspiring remarks from special guests, as well as dignitaries from the Blood Tribe, municipal authorities, and school board representatives. Attendees will also have the pleasure of witnessing a Blackfoot prayer, traditional dances, captivating drumming performances, and entertaining acts by talented students. A highlight of the night will be the ceremonial presentation of beaded eagle feathers and Pendleton blankets to each grade 12 student, symbolizing their journey and accomplishments.
CHS Principal Ken McMurray eagerly anticipates Honour Night each year, emphasizing that it is much more than a graduation ceremony. "Honour Night is a heartfelt recognition of the remarkable dedication displayed by our FNMI students in reaching this significant milestone," he says. This event allows us to express our gratitude to the families—parents, grandparents, aunts, and uncles—who have been unwavering in their support, equipping our students with the necessary skills to succeed academically and in life."
Principal McMurray further highlights that FNMI Honour Night is not only a celebration but also an esteemed awards ceremony. During the event, the CHS administration takes immense pride in presenting various locally funded scholarships and student awards, recognizing excellence in academic achievements, Blackfoot language and culture, Aboriginal studies, and school sports.