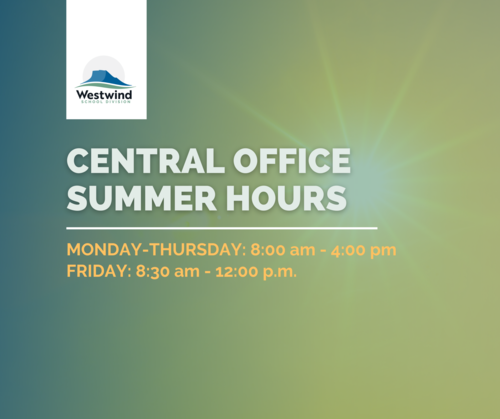 As we embark upon the summer season, we would like to inform you about the adjusted operating hours of our Central Office. Effective immediately, the Central Office will operate according to the following schedule:
Monday - Thursday: 8:00 am - 4:00 pm
Friday: 8:30 am - 12:00 pm
We kindly request that you take note of these summer hours and plan your visits or inquiries accordingly. Our dedicated team will be available during these times to address any questions, concerns, or requests you may have.
For urgent matters or immediate assistance outside of these hours, please feel free to contact us via email at wsd.pr@westwind.ab.ca. Our team will respond promptly upon their return to the office.
We value our relationship with each member of the Westwind School Division community, whether you are a parent, guardian, staff member, or community member. We remain committed to providing you with the highest level of support throughout the summer.
We hope you are enjoying a wonderful summer, filled with relaxation and rejuvenation. Thank you for your continued support and for staying connected with Westwind School Division.