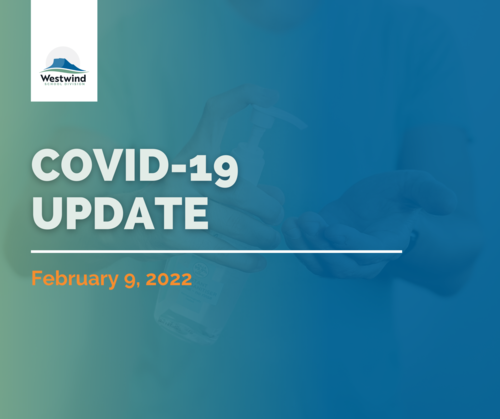 Yesterday evening, Premier Jason Kenny shared details regarding the province's plan to relax COVID-19 restrictions. Full details of the Alberta plan for returning to normal are available HERE. Our division remains committed to following the guidance and direction provided by Alberta Health and Alberta Education, and based on yesterday's announcement, we have made the following updates to our COVID-19 plan:
Masking
Effective (February 14), the Alberta government is removing all masking requirements for K-12 students from the public health order. This means that students in grades K-12 will no longer be required to wear a mask while riding the school bus or while attending school. The division will support personal choice surrounding masking, and school staff will monitor for and address any discrimination or bullying associated with a student's decision to wear or not wear a mask. Adult school staff are still required to wear a mask and must adhere to the province's current masking guidelines.
Daily Checklist and Isolation Requirements
Staff and students should continue to use the daily health checklist when making decisions regarding sending their child(ren) to school. All isolation requirements for students who are close contacts or test positive for COVID-19 remain in place. This includes the federal government's requirement that unvaccinated/partially vaccinated children and adults must not attend school for 14 days following international travel.
Extracurricular Activities
Yesterday's announcement removed the Restriction Exemption Program (REP), and proof of vaccination/negative test will no longer be required to attend division/school events. All adult spectators, volunteers, and visitors (18 years of age or older) are still required to wear a mask for the duration of their time in the school unless they are eating, drinking or have a medical exemption. We will be reopening concessions.
Thank you again for your continued patience and understanding as we continue to navigate the rapidly evolving COVID-19 landscape. We expect further changes to be announced by the government in the coming weeks, and we will continue to share more information with our families as it becomes available. We are hopeful that case numbers and hospitalizations will continue to drop across the province, and we can return to the full pre-pandemic normal we all long for.
 If you have any questions, please contact your school principal.