Family Literacy Day: January 27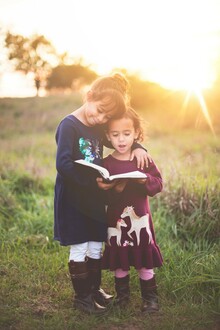 Take 20 to Learn Together for Family Literacy Day!
2019 marks the 20th anniversary of Family Literacy Day. In celebration, ABC Life Literacy Canada invites families across the country to Take 20. Take 20 minutes on January 27th and every day to learn together as a family by reading, singing and playing. Engaging in literacy activities as a family improves a child's skills and also helps adults to keep their skills sharp.
Why not try one of these activities and see how much fun learning can be:
1. I Wonder Why? Go online as a family and learn something new. Ever wonder why the ocean and sky are blue?
2. Read ANYTHING: A comic book, blog, magazine or a letter from grandma. Read together and get in your 20 minutes each day.
3. Make Something Yummy: Follow a family recipe or create a new one together.
4. Travel the World: Your library card is your passport to travel the world and to take a learning journey.
5. Scientist in the House: Do a kitchen experiment or mix up a batch of playdough.
6. Deal Me In: Playing cards and keeping score is a fun way to practice counting.
7. Shopper Time: Make a grocery list together with kids finding what's on the list and checking off the items (and maybe add a special treat!)
Visit FamilyLiteracyDay.ca for more activity ideas, free downloadable resources and to check for local Family Literacy Day events.
Family Literacy Day was created by ABC Life Literacy Canada in 1999 and is celebrated nationally on January 27 to raise awareness of the importance of reading and engaging in other literacy-related activities as a family