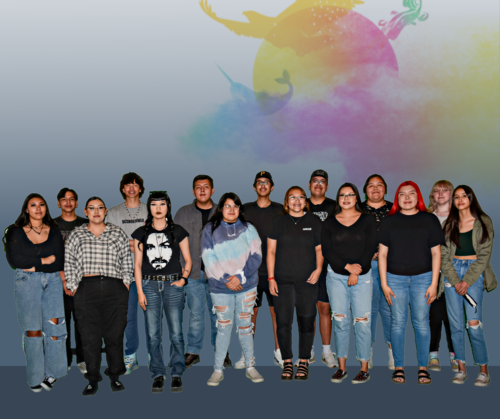 Each year, Cardston High School plans and organizes a First Nations, Metis and Inuit (FNMI) Honour Night to recognize and celebrate Westwind FNMI students and all they have accomplished in their educational journeys. This year, they are also making arrangements to host a very special guest.
Celebrated hockey player and motivational speaker Theo Fleury, who is of Metis ancestry, will be joining the celebration on May 18 and speaking to graduating students and their families. Fleury played more than 1000 games with the Calgary Flames, New York Rangers, Colorado Avalanche and Chicago Blackhawks. He also won a gold medal for Canada in the 2002 winter Olympics. 
CHS has celebrated the FNMI Honour Night since the mid-1990s. Garry and Chris Fox, Family-School Liaison Counsellors at CHS, are heavily involved with the organization of Honour Night and have attended with all six of their own children. 
"Our students have worked hard and excelled in many areas, and Honour Night is an opportunity to recognize their achievements and accomplishments," Garry explains. 
"Extended families are an essential part of FNMI culture," adds Chris. "This year, the Honour Night will recognize 28 students, and we look forward to creating an opportunity for them to celebrate both their heritage and accomplishments with their loved ones. That's what makes this evening so valuable."
Students also look forward to the Honour Night every year. Stran Wells, a graduating student, says "I appreciate that CHS gives First Nation's students the opportunity to be recognized and honoured with all our families and relatives in attendance."
In addition to awards and remarks from special guests and Blood Tribe, municipal, and school board dignitaries, the evening will include a Blackfoot prayer, traditional dances, drumming, entertainment from various students, and the ceremonial presentation of beaded eagle feathers and Pendleton blankets to each grade 12 student. 
Doug Hall, from the Blackfeet Tribe of the Blackfeet Indian Reservation of Montana and whose Blackfeet name is "Crazy After Horses," will attend the event as a special guest along with Theo Fleury. Joining them will be Travis Plaited Hair, a member of the Blood Tribe Chief & Council, who will serve as the Master of Ceremonies for the evening, a role he has filled for the past five years.
Students and staff have been fundraising throughout the school year to prepare for the evening, organizing bottle drives, selling raffle tickets, and even baking. Heather Quesnelle, an educational assistant at CHS, has supported the fundraising efforts through cinnamon bun sales every Wednesday. 
"Students have helped with aspects of the process, from mixing and rolling out the dough to selling the cinnamon buns," explains Heather. "I've really enjoyed getting to know the students over the last few months. They all have such great personalities and are fun to work with." 
CHS Principal Ken McMurray looks forward to Honour Night every year. "Our Honour Night is not a graduation ceremony, but a time to recognize our FNMI students that have worked so hard to reach this milestone," he says. "This event is important because it allows us to recognize our students and their families; parents, grandparents, aunts and uncles, who have supported them and given them the skills to succeed in school and life."
Principal McMurray also explains that FNMI Honour Night also serves as an awards ceremony. The CHS administration will present several locally funded scholarships and student awards in areas of academic excellence, Blackfoot language and culture, Aboriginal studies and school sports.
CHS will host Honour Night Wednesday, May 18, 2022, at 6:00 p.m. Please contact the school for tickets.