Hats On! for Mental Health: May 6, 2020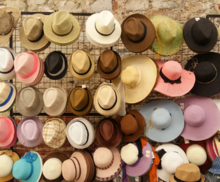 May 4 to 8, 2020, is Mental Health Week!
Over the past several weeks, we have witnessed firsthand the power of virtual social connection and its continued ability to make a difference for others. Social connection protects and promotes good mental health. That's why this year's Mental Health Week is about real connection. More information is available at mentalhealthweek.ca.
As we support Mental Health Week, we invite our Westwind families to join us in participating virtually in Hats On! for Mental Health day Wednesday, May 6, 2020, by wearing a hat to raise awareness of the importance of positive mental health. We strongly believe that mentally healthy students are resilient and better able to learn, achieve success and build healthy relationships.  Share your Hats On! photos on social media and tag us in them using #HatsOnWestwind!
You can learn more about supporting positive mental health for students by visiting the Government of Alberta website at www.alberta.ca/mental-health-in-schools.aspx and the Alberta Regional Professional Development Consortia Supporting Learning at Home website at sites.google.com/arpdc.ab.ca/learningathome.