Have a Safe and Spooky Halloween!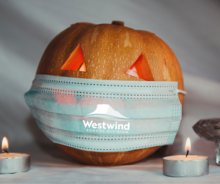 This year, the scariest part of Halloween is NOT the traditional ghouls and goblins. Like many parents, you may be wondering if planning a safe and spooky Halloween during COVID-19 is even in the forecast for 2020.
Have no fear! With some extra precautions and a little creativity, you can still plan a fang-tastic Halloween for your little ghouls and goblins.
In this post, we'll give you tips for planning a safe and spooky Halloween during COVID-19. With some help from Alberta Health, we've compiled some tips and tricks that will help make this year's spooky season a real treat. 
Costumes? Thanks for Masking
"Creep" it real as you costume plan for your little ones this year and keep in mind that non-medical masks are mandatory in schools for students in grades 4-12, even on Halloween. In other words - choose a costume will allow your child to safely include a non-medical mask as part of their ensemble. Try to steer clear of costume masks as layering them over non-medical face masks can make it difficult for children to breathe.
No Coffin Allowed
How do you tell if a vampire is sick? By how much he is coffin. 
All jokes aside - coughing is a symptom on the AHS Daily Checklist that should be used every day before leaving the house - even on Halloween. Above all, if you or your little witch or wizard feels ill, stay home and keep away from trick-or-treaters.
Stick with your #Squad (Cohort)
Keep Halloween fun and safe by sticking to the AHS #sqaudgoals (cohort) guidelines. Do this by limiting your contact to your family or immediate cohort and trick-or-treating in your own community. Don't forget to always stay 2 metres from others (that's 17 full-sized snickers bars).
Trick-or-Treat Yo' Self Safely
This year, consider enlisting your children to help you develop a creative non-contact way to share treats. For example, this candy chute is taking the internet by storm! Make sure to let trick-or-treaters know whether or not you are open for candy boo-ness by posting a sign to your door or window and be sure to wear a non-medical mask if you decide to hand out candy.
More Howl-oween Tips
For resources and more non-tricky tips for planning a safe and spooky Halloween during COVID-19, visit the Government of Alberta Halloween during COVID-19 website.
Happy Haunting!