Jr. High Cross Country Zones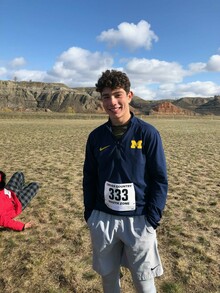 Many of our #TeamWestwind athletes participated in Junior High Country Zones this week in Medicine Hat! Pictured is Magrath's Brock Barnett, who placed first in the Juvenile Boys (grade 9) category.
Congratulations to all of our athletes who placed in the Top 15 - there was some serious competition and huge races!
Bantam girls (G. 7) top 15 From Westwind School Division
1/133 Hannah Pilling -Mountain View
2/133 Ava Neilson- Magrath
11/133 Ryanna Elliott- Mountain View
Bantam Boys (G. 7) top 15 From Westwind School Division
1/151 Grayson Fox- Mountain View
6/151 McKay Salmon- RJHS
8/151 Austin Baker- RJHS
13/151 Russell Comin- CJHS
Midget Girls (G. 8) Top 15 From Westwind School Division
7/108 Paisley Sillito- Stirling
10/108 Eliza Smith- RJHS
14/108 Mia Wilde- Magrath
Midget Boys (G. 8) Top 15 From Westwind School Division
1/102 Seth West- RJHS
11/102 Angelo Granda Ramos- Stirling
13/102 Bently Francis- RJHS
15/102 Enoch Stone- Stirling
Juvenile Girls (G. 9) Top 15 From Westwind School Division
1/54 Delaney Gibb- RJHS
2/54 Hallie Litchfield- Cardston High School
3/54 Grace Hansen- Magrath
5/54 Hallee Pilling- Cardston High School
7/54 Mallori Mehew- Magrath
8/54 Livy Hasagawa- RJHS
10/54 Skyley Jensen- RJHS
11/54 Nyla Salmon- RJHS
13/54 Maddison Zumbach- RJHS
14/54 Elania Smith- RJHS
15/54 Kamron Jensen- RJHS
Juvenile Boys (G. 9) Top 15 From Westwind School Divison
1/70 Brock Barnett- Magrath
9/70 Justin Baker- RJHS
10/70 Tyler Comin- Cardston High School
12/70 Callan Oviatt- Stirling
Overall School Banner Winners
3J– Stirling School
4J– Raymond Jr High School