Let's Talk, Westwind!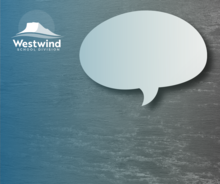 Let's Talk!
Westwind has recently launched a new engagement platform, Let's Talk Westwind, specifically designed to invite parents, students, teachers, and all of our partners in education to make their voices heard and contribute ideas and feedback. We appreciate your willingness to share your insights with us so we can continue to work together to do what is best for students. 
This week we are inviting parents to tell us about their most recent online learning experience. Please CLICK HERE to connect with us!
We are also sending a student-specific survey to junior high and high school students - please encourage your students to check their email and share their unique insights with us.
A message from the Superintendent:
Please 
CLICK HERE
 to share your feedback about online learning.