Merry Christmas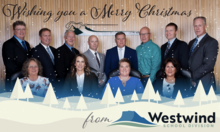 The Board of Trustees and Administration would like to send warmest thoughts and Merry Christmas wishes to all of the Westwind communities we serve. We hope this break provides you and your families some time to pause and reflect upon the spirit of the season.
As we look back on 2018 and all that we have accomplished together, we wish to express appreciation for our Westwind students, staff, families and educational partners. We are grateful for your interest and continued support. We care deeply for your children and their futures and, moving into 2019, we want you to know that we are committed to continuing to do what is best for student learning.
At this very special time of the year, it is our hope that we take the opportunity to reflect on how lucky we are to live in a place like Southern Alberta. We recognize that we are truly blessed to live in close-knit communities full of strength, tradition, generosity and genuine human kindness. We wish you and your loved ones a truly joyful holiday season and we look forward to welcoming students back on January 7, 2019.