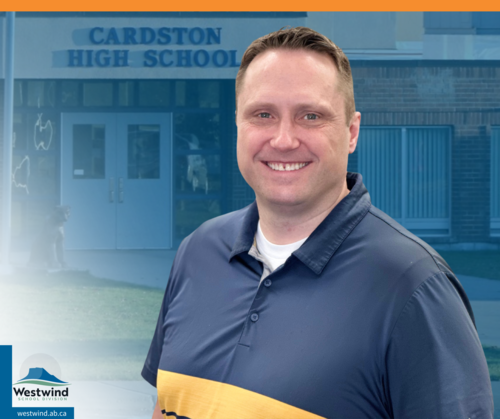 We are pleased to announce that Mr. Cody Toone has been appointed as the new Principal at Cardston High School, beginning in the 2023/2024 school year. Mr. Toone will be taking over the school leadership position from Principal Ken McMurray, who is retiring at the end of June. We wish him all the best in his retirement.
As part of the hiring process, Division leadership worked closely with parents and staff to identify the needs of Cardston High School and built a hiring ad based on stakeholder feedback. Superintendent Darren Mazutinec spoke about the hiring process, stating, "We listened to the needs of the school and the community, and we worked to find a candidate who can meet those needs and take CHS to the next level. We are confident that Cody Toone is that candidate."
Prior to his appointment, Mr. Toone served as Vice Principal and Athletic Director at Cardston High School, where he demonstrated exceptional leadership skills and worked tirelessly to create a positive learning environment for students. He also has experience as a teacher and Vice Principal at Cardston Junior High School, providing him with valuable experience in both academic and administrative roles.
As a skilled communicator and collaborator, Mr. Toone is committed to working closely with staff, parents, and community members to ensure that all students receive an excellent education that prepares them for success in their future endeavours. In addition, he is dedicated to creating a positive and inclusive school culture that celebrates diversity and promotes equity and inclusion for all.
"I'm humbled," says Mr. Toone.  "I'm grateful for the trust shown to me by this opportunity, and I'm looking forward to helping to be a part of the next part of Cardston High School's journey. Go Cougs!"
Superintendent Mazutinec believes that Mr. Toone will be a strong leader for the school and a champion for student success. "We are excited to welcome Cody Toone as the new Principal of CHS," he said. "We have every confidence in his leadership abilities and his commitment to ensuring that every student has the opportunity to achieve their full potential."
Please join us in welcoming Mr. Toone to his new role and in thanking Mr. McMurray for his many years of dedicated service to the Westwind School Division.