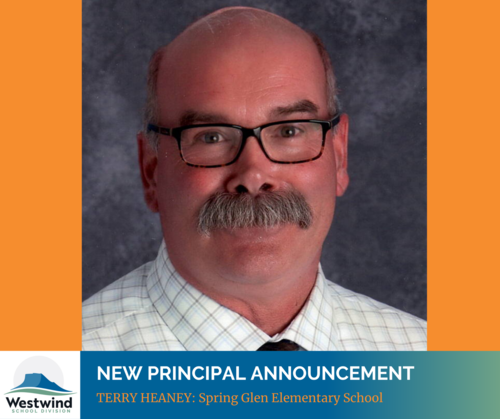 Westwind School Division is pleased to announce that Mr. Terry Heaney has accepted the principalship at Spring Glen Elementary School (SGE) beginning the 2022/2023 school year.
Mr. Heaney is an experienced educator in his thirty-fifth year of teaching. He has an extensive background in all levels of education, including elementary and secondary schools in rural, urban and Indigenous school settings within Alberta and Manitoba. Most recently, Mr. Heaney has worked at Westwind School Divison for eight years at three different schools and is currently serving as the vice-principal at Cardston Elementary School (CES)
With an academic background that includes a Masters's degree in Special Education and a teaching degree from the University of Alberta, Mr. Heaney says he knew he wanted to be a teacher from the very first day he stepped into a classroom. He spent a large portion of his early teaching career teaching secondary English and working in special education. However, as he watched older kids struggle with learning, he realized there was more he could do to help students earlier on in their lives and that he could make the most difference in an elementary school, and that is where he has chosen to be ever since.
CES principal Stacy Jacobs has worked with Mr. Heaney for the past three years and describes him as a "committed advocate for kids." She explains that "Terry gets to know each child individually and works hard to understand their unique strengths and how he can support them. He collaborates with parents and staff to help each student thrive. The kids at Spring Glen Elementary School are in good hands."
Mr. Heaney is looking forward to his new position at SGE and working with the school community to support and prioritize students. "My biggest goal moving into this role is success for the kids," he says. "As educators, we work with people, helping create lives and futures. I see my role as helping kids see education as a positive thing and feel like they are members of a school they are connected to and where they are understood."

He continues, "I've been through a lot of educational experience that has given me a good perspective and allows me to respond in a way that is always solution-focused. I love being in classrooms and being with students, and I travel optimistically, always."
Superintendent Darren Mazutinec says, "I have the utmost confidence that Mr. Heaney will lead Spring Glen Elementary School with clear direction and work collaboratively with staff and parents to advocate for the success of all students."