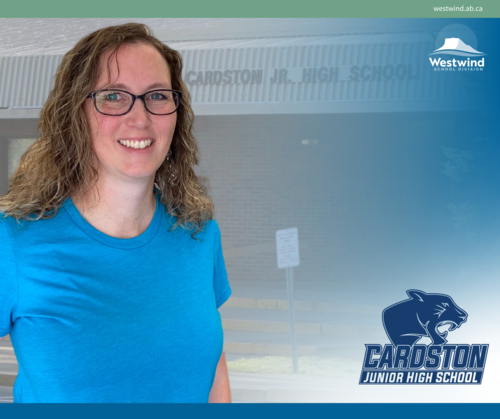 We are delighted to announce the appointment of Mrs. Candace Atwood as the new Principal of Cardston Junior High School, commencing in the 2023/2024 school year. Mrs. Atwood will be succeeding Principal Jeremy Payne in leading the school.

Superintendent Darren Mazutinec expresses, ""Candace Atwood's appointment to Principal is a direct result of her consistent and committed hard work, dedication, and love for all the students, staff, and families attending Cardston Junior High. I'm confident Ms. Atwood's education vision, love of learning, and providing a vast array of school experiences for her students will be easily and readily seen by all."

Prior to her new role, Mrs. Atwood served as the Vice Principal at Cardston Junior High School, where she showcased exceptional leadership skills and wholeheartedly worked towards establishing a positive and nurturing learning environment for the students.

Recognized for her effective communication and collaborative nature, Candace is deeply committed to working closely with staff, parents, and community members to ensure every student receives an excellent education that prepares them for their future endeavours. Moreover, she is dedicated to fostering a positive and inclusive school culture that celebrates diversity, promotes equity, and embraces inclusivity for all.

Mrs. Atwood expresses her gratitude and enthusiasm, stating, "I am incredibly humbled and excited for this opportunity! I love CJHS and eagerly anticipate collaborating with the staff, students, and parents in this new capacity."

We warmly welcome Mrs. Atwood to her new role and invite everyone to join us in extending a heartfelt congratulations to her.