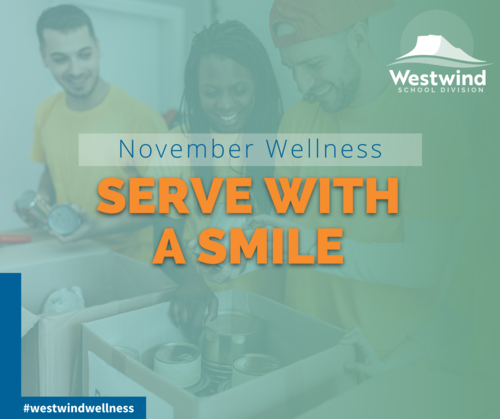 This month's #WestwindWellness challenge is SERVE WITH A SMILE.
Have you ever heard of The Helper's High?
This concept arose in the 1980s and confirmed that multiple positive emotions follow selfless service to others, and greater health and increased longevity are associated with this psychological state. The concept of the "helpers high" has been reaffirmed in multiple studies since the 80s and has shown that generosity, selflessness, and an extended sense of self improve our ability to confront challenges successfully. 
Neuroscience has demonstrated that giving is a powerful pathway for creating more personal joy. Helping others triggers our brains in many positive ways; for example, when we help others, our brains release oxytocin, serotonin and dopamine. These hormones boost our mood and counteract the effect of cortisol (the stress hormone).
On a neurobiological level, studies suggest that giving social support to others may benefit the giver more than the receiver. In one study that compared giving versus receiving, participants were asked about various scenarios in which they either gave or received support. In a series of fMRI neuroimaging tests, the study found that giving ultimately had greater benefits than receiving. In other words, from an evolutionary perspective, our brains are hardwired to feel rewarded more for generosity and selflessness than for meanness and selfishness.
NOVEMBER CHALLENGE: As an individual, family, or staff provide an act of service to someone in your community. There are some great ideas about how to serve your local community at https://www.justserve.org/.
TED TALK: Helping others makes us happier -- but it matters how we do it
Social psychologist Elizabeth Dunn talks about the science of service and how we can make a more significant impact -- and boost our own happiness along the way -- if we make one key shift in how we help others.