Promoting Indigenous Languages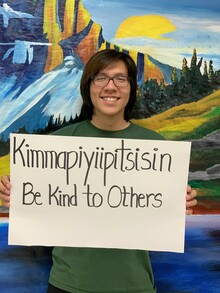 From September 17-24 the city of Lethbridge is observing Reconciliation Week, with a special emphasis on promoting Indigenous languages. Westwind School Division recognizes that languages are essential in building connections, relationships and strong communities.
Blackfoot is the most common Indigenous language spoken in Westwind, and Charlotte White Quills, a member of the Blood Tribe and teacher at Cardston High School, along with her Blackfoot 20 class will be sharing their knowledge of the Blackfoot language with #TeamWestwind this week on social media. We will be spotlighting one student each day as they teach us a traditional Blackfoot word or phrase so check our channels daily!