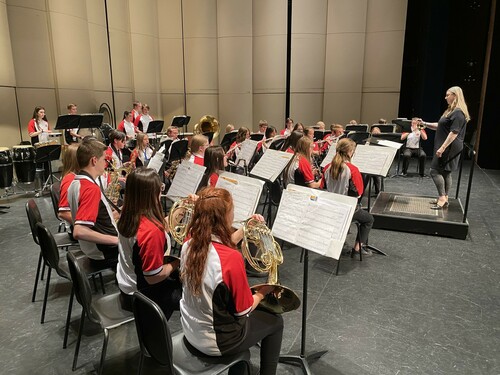 The recent success of the Raymond High School band program is music to our ears!
When both Raymond High School bands received Superior ratings at the Lethbridge and District Music and Speech Arts Festival this year, RHS band teacher Ryan Heseltine knew they had a great shot at doing well at the provincial level. And he was right! 2022 marks the first year that Raymond High School bands have ever achieved Superior ratings in a province-wide festival, and we couldn't be more proud!
In May, the RHS Intermediate and Senior bands participated in the Alberta Band Association Provincial Festival Of Bands, which welcomes students from across Alberta to Red Deer to participate in 5 days of performances, clinics and sight-reading activities. Festival judges are prestigious adjudicators, educators and clinicians from all over Canada.
The RHS band prepared for this festival for months, preparing for three competition areas:
A performance evaluation, where judges grade the performance of three pieces; two contrasting numbers and a march.
A clinic; where a judge works with the band and grades their ability to listen and adapt to instruction.
A sight-reading performance, where the band receives a piece of music they have never seen or heard before and must perform it in front of a judge. 
Both bands received perfect scores in sight-reading, which is a true testament to their abilities, and superior grades overall. Superior ratings are only awarded to a handful of bands in the province each year, and there is no doubt RHS earned their spot in the top 5% of band programs in Alberta.
"Our bands have worked so hard to recover from covid and the interruptions it caused," explains Mr. Hesletine. "It is very rewarding to see that work pay off and realize that the excellence Raymond is known for across the province translates so well to the arts."