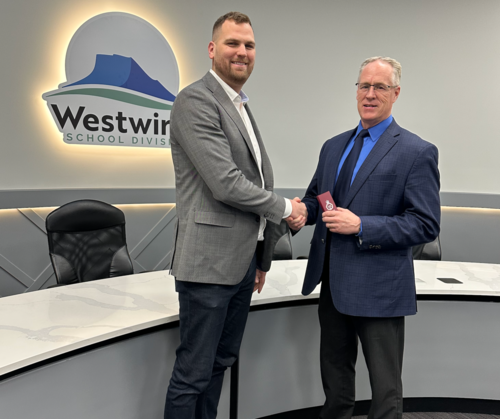 Cardston-Siksika MLA Joseph Schow attended the Westwind School Division board meeting on January 19 and presented superintendent Darren Mazutinec with the Queen Elizabeth II's Platinum Jubilee Medal.
During his presentation, Schow explained that he selected Mr. Mazutinec as a nominee in recognition of his outstanding leadership and dedication to students throughout his career. Schow and Mazutinec have worked closely in their leadership roles, most recently to ensure extra-curricular activities could continue safely for Westwind students during a period when many other jurisdictions placed programs on hold.
"I have come to know Darren as a man of integrity with a passion for his work serving the students of Westwind School Division," says Schow. "It is an honour to work with him and present him with the Queen's Platinum Jubilee Medal."
Southern-Alberta born, raised, and educated, Mr. Mazutinec has dedicated his life to working with students. During his thirty-two-year career as an educator, Mr. Mazutinec has filled various roles, including teacher, coach, vice principal, principal, deputy superintendent, and superintendent since 2019.
Congratulations, Superintendent Mazutinec!