Superintendent Message: Reflecting on 37 years in education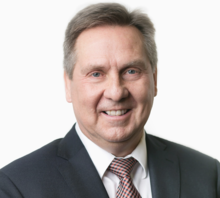 Once a week, the Lethbridge Herald publishes a column written by a superintendent of one of five school jurisdictions in the Lethbridge area. This week's column is authored by Westwind Superintendent, Mr. Ken Sommerfeldt, and was published on May 22, 2019. Thank you to the Lethbridge Herald for permission to post this article on the Westwind website.
As I come to the conclusion of my 37-year career in education, I have had many opportunities to step back and reflect on this process we call teaching and learning. I could do a "then and now" commentary, but that has already been done elaborately by others. Instead, I would like to focus on three significant positive shifts in education that are making learning more relevant, engaging, and meaningful for students:
– A shift away from the "teacher and teaching," to "learning and the student." It is not enough for a teacher to say, "I taught the materialÉ I did my job." If students were unable to master the material, then there needs to be a refocus on the teaching as well as the learning style of the student. A teacher's duty has evolved over the last two decades to include understanding the learning needs of the student as well as working to remove barriers that may be keeping the student from succeeding.
– A shift away from a "One size fits all – content focused" education to a more "personalized learning and competency-based" education. With so much information available in our day, the focus on content is less important than the skills and competencies necessary for students (of all ages) to find answers and solutions to challenges they face. Problem-solving skills acquired at all levels of development are now embedded in the curriculum for students – making learning relevant to a student's life experience.
– A shift away from "individual teacher practice" to "professional collaboration." The professional work done by teams of teachers in 2019 is enriched by a commitment to a collaborative model for the benefit of students. Gone are the days where teachers practise in isolation! School cultures are shifting to include time for colleagues to work with and observe their peers with a focus on continual improvement. This includes gathering and examining data, improved teacher practice, and reciprocal accountability to common goals among team members.
I could go on and on, but these three fundamental shifts in education give me great confidence in the direction, purpose and performance of our education system. I am excited by the energy, professionalism and commitment of teachers. I celebrate the contribution of parents and grandparents as the first partner in education and advocates for their children. I acknowledge the deep personal commitment of school leaders who face up to the challenge of ensuring that quality education occurs in each and every classroom.
Gratefully, I pass the torch to the next generation of educators, and humbly I express my sincere gratitude for the trust that has been given me to serve these many years in perhaps the most important work in our society.