Sydnee Roberts: Edwin Parr Nominee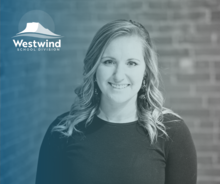 Westwind School Division wishes to recognize and acknowledge Sydnee Roberts as the recipient of Westwind School Division's Edwin Parr Award 2019/2020 nomination! 
The Edwin Parr Teacher Award recognizes outstanding first-year educators and is presented annually to six teachers across Alberta. Earlier this year, school and division leadership teams identified Sydnee as an exceptional new teacher in our division. She continues to excel at building positive relationships with students and implementing effective instructional strategies in her classrooms, first as a grade 5 teacher at Raymond Elementary School, and currently as a music teacher at Raymond High School. In a typical year, Sydnee would have attended the annual Zone 6 Edwin Parr banquet last spring; however, due to COVID-19 restrictions, the decision was made to postpone the event. Even though we were unable to create a video showcasing Sydnee this year, we still wanted to give you the chance to get to know her!
Sydnee is a Westwind School Division alumni - she grew up in Raymond. After graduating from high school Sydnee's goal was to sing and perform for a living, and she decided to chase her dreams all the way to New York City to audition for Broadway! It was ultimately Sydnee's own junior high teacher who helped steer her towards a career in education, where she continues to excel and be a valued member of Team Westwind.
We are featuring Sydnee on our latest NunnTalks podcast episode! Mr. Nunn chats with her about her New York experiences, her fundamental educational philosophies, and what advice she'd give to students about living their dreams. We also speak to RES Principal Jerry Salmon about some of the challenges first-year teachers face and what made Sydnee stand-out.
The Edwin Parr Teacher Award is presented to six outstanding first-year teachers across the province of Alberta. Mr. Edwin Parr was a school board trustee and president of the Alberta School Trustees Association from 1956 – 1962. To honour his legacy, ASBA established this award in his name in 1964.