Teacher Appreciation - A Message from the Board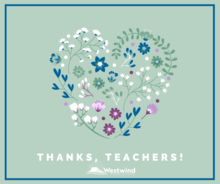 Dear Teachers,
It is Teacher Appreciation Week, and we want to personally express our appreciation for your tireless dedication and the difference you continue to make in the lives of our students. We speak for parents everywhere when we say we appreciate you now more than ever. Over the past month, we have heard consistent praise and gratitude for your efforts and your tireless can-do creative thinking and exceptional levels of caring and empathy. 
We recognize and celebrate that you, our teachers, are an inspiring group of professionals dedicated to supporting our Westwind communities and providing essential service to students and families. Over the past seven weeks, you have demonstrated your commitment to our mission of fostering student-centred learning and inspiring all students to thrive. Thank you for being there for our students. Thank you for making the pivot from the classroom to online learning gracefully and with a positive attitude. Thank you for your commitment to education and growth.
We know how much our students miss you and how much you miss them. Our current world situation has highlighted the vital role of teachers and just how impactful you are in the lives of our children. We appreciate everything you do, but especially as we have watched you endeavour to do what is best for students during this time of crisis.
This week, we want to recognize you, our teachers, for your dedication, talent, resiliency, adaptability, and compassion. We honour you for your contribution to student learning and the difference you make in students' lives every single day.  We appreciate you, and we look forward to visiting your classrooms in October for World Teacher day.
Sincerely,
The Westwind School Division Board of Trustees