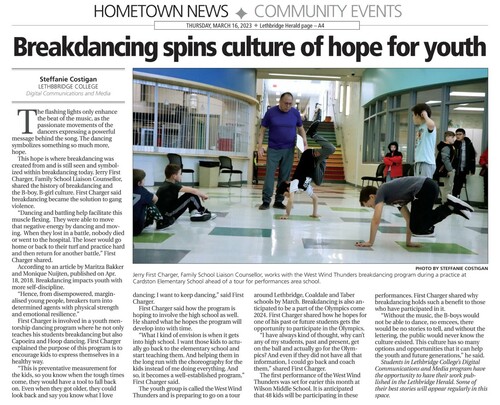 Students in Lethbridge College's Digital Communications and Media program have the opportunity to have their work published in the Lethbridge Herald. This article, authored by Steffanie Costigan, was published in the Herald on March 16, 2023. Thank you to Steffanie, the Lethbridge Herald and Lethbridge College for permission to post this article on the Westwind website.
The flashing lights only enhance the beat of the music, as the passionate movements of the dancers express a powerful message behind the song. The dancing symbolizes something so much more, hope. This hope is where breakdancing was created from and is still seen and symbolized within breakdancing today. Jerry First Charger, Family School Liaison Counsellor, shared the history of breakdancing and the B-boy, B-girl culture. First Charger said breakdancing became the solution to gang violence.
"Dancing and battling help facilitate this muscle flexing. They were able to move that negative energy by dancing and moving. When they lost in a battle, nobody died or went to the hospital. The loser would go home or back to their turf and practice hard and then return for another battle," First Charger shared.
According to an article by Maritza Bakker and Monique Nuijten, published on Apr. 18, 2018, breakdancing impacts youth with more self-discipline. "Hence, from disempowered, marginalized young people, breakers turn into determined agents with physical strength and emotional resilience."
First Charger is involved in a youth mentorship dancing program where he not only teaches his students breakdancing but also Capoeira and Hoop dancing. First Charger explained the purpose of this program is to encourage kids to express themselves in a healthy way.
"This is preventative measurement for the kids, so you know when the tough times come, they would have a tool to fall back on. Even when they got older, they could look back and say you know what I love dancing; I want to keep dancing," said First Charger. First Charger said the program is hoping to involve the high school as well. He shared what he hopes the program will develop into with time.
"What I kind of envision is when it gets into high school. Then, I want those kids to actually go back to the elementary school and start teaching them and helping them in the long run with the choreography for the kids instead of me doing everything. And so, it becomes a well-established program," First Charger said.
The youth group is called the Westwind Thunders and is preparing to go on a tour around Lethbridge, Coledale and Taber schools by March. Breakdancing is also anticipated to be a part of the Olympics come 2024. First Charger shared how he hopes that one of his past or future students gets the opportunity to participate in the Olympics.
"I always have kind of thought, why can't any of my students, past and present, get on the ball and actually go for the Olympics? And even if they did not have all that information, I could go back and coach them," shared First Charger.
The first performance of the Westwind Thunders took place in March. 9, 2023, in Lethbridge at Wilson Middle School. Forty-eight students participated in the performance. First Charger shared why breakdancing holds such a benefit to those who have experienced in it.
"Without the music, the B-boys would not be able to dance, no emcees, there would be no stories to tell, and without the lettering, the public would never know the culture existed. This culture has so many options and opportunities that it can help the youth and future generations," he said.