Three Year Old Screening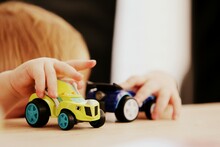 Is your three year old on track with his/her developmental milestones?
If your child is or will be three years old by December 31, 2019 and you have concerns with his/her development in the areas of speech/language, motor skills or social/emotional behaviour, you can get your child assessed through Westwind School Division Early Childhood Services.
Early developmental screening and assessment enables parents to gain an understanding of where their child is at along the developmental continuum and if your child qualifies for an Early Childhood Program through Alberta Education.
For questions or to schedule an assessment, please contact:
Glenwood/Hill Spring:  Susan Bester- 403-626-3611
Mt. View:  Janice West- 403-653-2404
Magrath:  Shauna Clifton- 403-758-3367
Cardston:  Sandi Letioa- 403-653-5634
Raymond:  Peggy May- 403-752-3004  ext. 2
Stirling:  Rena Proctor- 403-756-3355