Transportation Changes for 2020/2021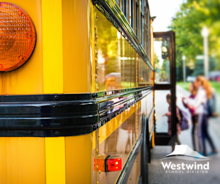 Westwind School Division continues to make preparations for the upcoming school year as information from Alberta Education becomes available. Based on feedback from our recent parent/guardian survey, it is clear that we are all hoping for a standard return to school in September.  As our students' safety is our top priority, we are making some necessary adjustments to our transportation services based on direction provided in re-entry requirements set by the Alberta government. 
Effective September 2020, Westwind School Division will only be providing bus transportation to/from school for students who reside farther than 2.4 kilometres away from their designated school.  For the foreseeable future, as we continue to deal with the challenges of COVID-19, we will no longer be able to accommodate bussing students within the 2.4-kilometre boundary. 
We appreciate our Westwind families' understanding and patience as we seek to adapt to our current health climate and follow all necessary social distancing guidelines to ensure student safety. We strongly encourage parents with students within the 2.4-kilometre boundary that usually ride the bus to use the summer months to make alternate transportation arrangements for their students for September. We understand that this situation is not ideal and may cause inconvenience for our families, and our sincere hope is that this arrangement will be temporary. We plan on implementing our new transportation procedures announced earlier this spring as COVID-19 cases subside and as social distancing guidelines relax in the coming months.
PLEASE NOTE: Westwind's Inclusive Education team will continue to address transportation needs based on the special needs student assessment.