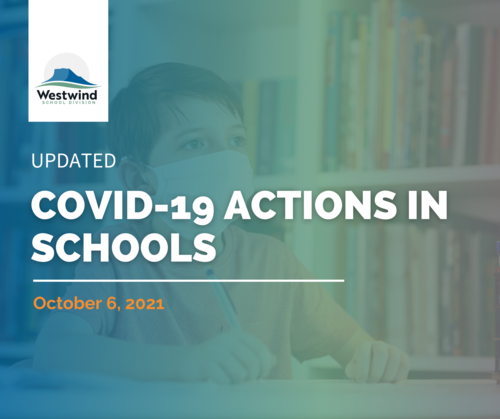 Dear Parents/Guardians.
This week the Premier, the Minister of Education, and the Minister of Health announced new actions to manage COVID-19 in schools. We recognize that our Westwind families will likely have many questions about this announcement and what these updated actions might look like in our division. We are expecting detailed documentation from the government next week, but in the interest of timely and transparent communication with our school community, we want to share what we know at this time.
Beginning October 6, Alberta Health will be posting information publicly about school-level COVID-19 cases in schools. Schools with at least two positive COVID-19 cases who were present at school while infectious will be listed under Alert (2 to 4 cases and 5 to 9 cases) or Outbreak (10+ cases) status. 

The previous use of a 10% absenteeism rate will no longer be used for COVID-19 cases but will remain in place for other respiratory or gastrointestinal illnesses.
We are reviewing this information for the first time today, as AHS has not been notifying divisions about positive cases in schools. We are awaiting some additional context from AHS about what this data means and how they would like us to proceed. 
Beginning next week, we will resume contact notification within schools. Our schools will work with AHS to inform parents if their child may have been exposed to a COVID-19 case who was infectious while at school. 

We understand that AHS will not require close contacts to quarantine or isolate unless they are exhibiting symptoms outlined in the daily health checklist. We are expecting further guidance next week.



Also, beginning next week, if three or more COVID-19 cases are identified within five calendar days in a Kindergarten to Grade 6 class, AHS will issue an exclusion notification, and only students in that classroom will shift to at-home learning for ten calendar days. This action does not apply to Grades 7-12.


In late October, the government will distribute rapid testing kits for Kindergarten to Grade 6 schools, starting with schools experiencing an outbreak status. We will share more information about this as it becomes available.


Based on our current understanding, all other public health measures to support the safe operation of schools remain in place. This includes mandatory masking for grades four and up, physical distancing when possible, enhanced cleaning and daily symptom screening.

Indoor athletic events will continue under the current guidelines, including masking, physical distancing and limited capacity in our facilities. Outdoor athletic events may continue with no restrictions. 
There has been a significant amount of updated information and changes from the province throughout this first month of school. We appreciate your continued patience and support of our teachers, school staff, and school leaders as they do everything in their power to help students have positive school experiences. Please know we are working hard to understand and communicate new information with families as quickly as possible.
It's safe to say that this certainly hasn't been the first month of the school year that we were hoping for, but we continue to move forward with optimism and hope that we will soon find ourselves in the typical school year situation we have all been missing. We will continue to share more information as it becomes available. 
Thank-you,
Superintendent