Vice Principal Announcements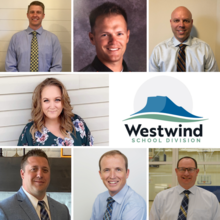 Westwind School Division is pleased to announce the following vice principal appointments across the division.
Bryce Coppieters, Raymond Junior High School.
Brett Ralph, Raymond High School.
Stephen Gibbings, Cardston High School.
Jerry Salmon, Raymond Elementary School.
Kara Baldwin, Magrath Elementary School.
Russ Sommerfeldt and Ryan Blackmore, Magrath Junior and Senior High School.
All of our vice principals were selected from a talented candidate pool in a competitive process based on the evaluation of competencies outlined in the Alberta Education's Leadership Quality Standard. All of our new VP's will continue to work in the current roles and will transition into their new positions for the new school year in the fall. Please join us in congratulating these staff members on their new appointments!