We Have Reading Covered!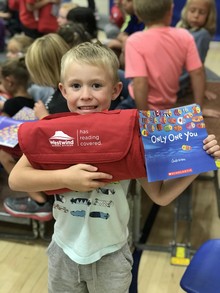 This week reading blankets will be handed out to grade one students in all Westwind Schools in celebration of International Literacy Day. The goal of the Westwind Board of Trustees is to help every single child to feel "warm and fuzzy" while they read and spark a life-long love of reading in students. We want every child to have a consistent place to read that is warm, comfortable and inviting.  
Westwind recognizes that literacy is one of the most important life skills that we can teach our kids, and we are serious about making sure that all our students have a solid base from which to approach the rest of their education and life.
Thank-you to our principals and teachers who do so much for our students!