View All News
Westwind Hosts Successful Hutterite Colony Educators Conference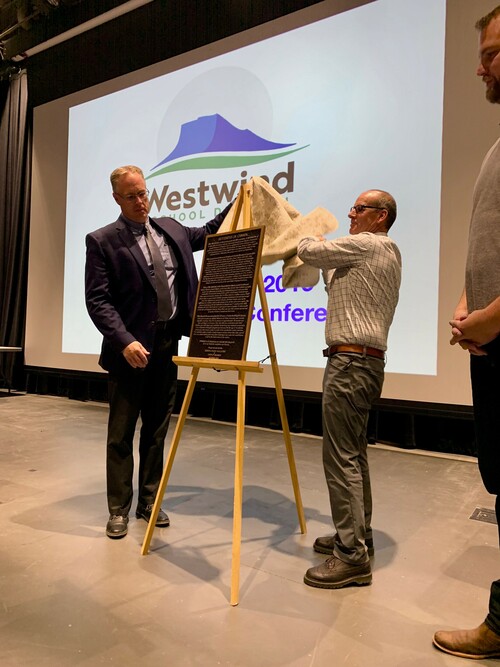 Hutterite culture is woven deeply into the fabric that contributes to a richly diverse Alberta. As the number of colony schools in the province continues to grow, so does the awareness that the educational needs of these colonies require unique approaches and considerations. Hutterite education is a combined effort in Alberta. Colonies provide school buildings and school divisions provides public school board teachers to teach the provincial curriculum to students. Additionally, a local Hutterite teacher teaches German and religion lessons to students.
In October, over four hundred Hutterite Colony Educators from across the province filled the seats of the Magrath High School theatre to engage in professional development and commemorate 100 years of Hutterites in Alberta. 
The Alberta Colony Educators (ACE) Conference has been held every two years since 1997 as a province-wide professional development opportunity for school division colony teachers and educational assistants.  Recently, the responsibility for organizing the event has shifted from individual school divisions to the ACE Special Interest Group of the English Second Language Council (ESLC) of the ATA. In the previous years, the conference dates conflicted with Hutterite religious holidays and early gardening season, making it difficult for colony members to participate. This year, the conference was held in October to make it more convenient for Hutterite German teachers to attend and promote increased collaboration and stronger relationships.
"The response to this change was incredible," says Karl Peterson, ACE Chairperson and Principal of Colony Schools for Westwind School Division. "In previous years, we would only have a handful of Hutterite brethren at our conference. This year we saw a dramatic increase in our numbers, with over two hundred members of various Alberta Hutterite colonies attending the conference in Magrath, including German teachers, Colony Ministers, and numerous other colony members and their wives." The conference had representation from 164/194 colonies, which is unprecedented. 
 "We could feel the general excitement in the air amongst the Hutterite teachers and everyone who was involved in the conference," says Peterson. He credits ACE conference chairperson, Bill Alston, with the success of the conference. Bill has been a colony teacher for 38 years with Westwind School Division and has organized three past ACE conferences.
Thomas Hofer, Second Minister at East Cardston Colony felt that the conference was important in building relationships between the English and German teachers who work on colonies. "The environment was just comfortable," he said. "We felt like we belonged there and the shared experience really helped to connect everyone."  Peter Hofer, the German teacher at East Cardston Colony, agreed. "It was nice to meet educators from other colonies and share good ideas and broaden our horizons a little bit. We got to see proof of programs that are working in other places and speak to other teachers."
During the opening address of the conference,  Cardston Siksika MLA Joseph Schow, Town of Magrath Mayor Russ Barnett and Westwind School Division Superintendent Darren Mazutinec unveiled a commemorative plaque recognizing and acknowledging 100 years of Hutterites in Alberta. The plaque will be mounted on a large rock donated by East Raymond Colony and displayed in Monument Park in Magrath. "Our goal was to honour the history of Hutterites in Alberta forever," says Peterson.
Conference attendees enjoyed a keynote address by Julie and Lowell Taylor, a Lethbridge couple who competed on the Amazing Race Canada season 4. Their message of hope, positive attitudes, and overcoming trials was well-received by attendees. Throughout the two-day conference, educators and speakers from around the province offered workshops on topics ranging from literacy to mental health, to german grammar. The closing keynote speaker was Jerome Chabot, a Metis man who discussed the importance of embracing and promoting unique culture. 
Peterson is proud of the collaborative efforts and partnership that made the ACE conference a success, including contributions by local Hutterite colonies of baked goods and door prizes. 
The Alberta Colony Educators Conference is held every two years, and the next event will be in Airdrie in October of 2021.