World Mental Health Day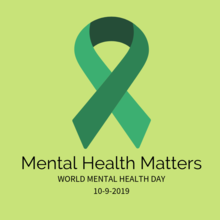 A Mental Health Message from Assistant Superintendent Austin Nunn:
Recently I sat next to an individual who was wearing a bracelet displaying the phrase, "It's ok not to be ok." Curious about it's meaning, I later used the investigative powers of google to discover that it referred to mental health and anti-stigma.
A small magnet on the whiteboard in my office reads "know how you feel," and displays faces expressing several emotions; happiness, worry, fear, anger, sadness, and excitement. We all feel these emotions any number of times a day, which is normal and healthy. However, when feelings of anger, sadness, loneliness and fear last for more extended periods of time, we may require some external support.
In 2014, The World Health Organization defined mental health as "a state of well-being in which every person realizes their own potential and can cope with the daily stresses of life."
Many of us will experience periods of our life in which we are not in a state of good mental health. At these points in life, it is essential to remember that it is ok to ask for help as we deal with intense and complex emotions and feelings. 
Our hope in Westwind is that our students each have a trusted adult they can go to in their school building when they experience challenges related to their mental health. We have teachers, school principals, educational assistance, family school liaison counsellors and many others that are willing to help and support students. We hope that our Westwind families will be open to reaching out to medical professionals and making use of community mental health support services when mental health challenges arise. 
Today we recognize World Mental Health Day as an opportunity to speak more openly about mental health. May we all be willing  to listen, to talk and to support one another, and share the message that "it's ok not to be ok."