World Suicide Prevention Day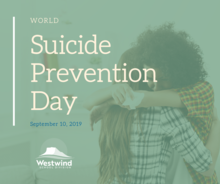 Today is World Suicide Prevention Day - a day to acknowledge that suicide can be prevented. Talking about suicide, even though that can be very difficult, is the first step in preventing suicide.

Resources:
Students can always connect with a professional counsellor at Kids Help Phone by calling 1-800-668-6868 or through Live Chat at http://KidsHelpPhone.ca. Young people can also reach a trained volunteer by texting TALK to 686868, 24/7.

Provides toll-free, 24/7 confidential, anonymous service, crisis intervention, information about mental health programs and services, and referrals to other agencies if needed

The Mental Health Commission of Canada (MHCC), in collaboration with the Centre for Suicide Prevention, the Canadian Association for Suicide Prevention, and the Public Health Agency of Canada has developed 2 toolkits to support people who have been impacted by suicide. One toolkit is tailored for people who have attempted suicide, and the other is focused on resources for people who have lost someone to suicide.