The Government of Canada passed legislation legalizing, regulating, and restricting access to cannabis on October 17, 2018.
Westwind School Division prohibits the possession and/or consumption of cannabis products of any kind or the possession of paraphernalia associated with the consumption of cannabis by any person on Division properties and at any Division activities or events. This provision supersedes any municipal bylaw, provincial or other law that may allow for the legal possession or consumption of cannabis in a particular venue or by persons over 18 years of age.  Additionally, all Westwind School Division schools and properties remain smoke-free environments. This includes smoking, vaping, and other forms of inhalants.
Working together to protecting our youth
The safety and wellness of your child is our top priority and we recognize the need to work together with parents to ensure that our children are protected.
With the legalization of cannabis, Westwind School Division, in collaboration with Alberta Health Services, is providing our children, youth and families with required supports and education to keep our kids safe. The current Kindergarten to Grade 9 (K-9) Health and Life Skills program of studies and high school Career and Life Management (CALM) program of studies enable students to make well-informed, healthy choices and to develop behaviours that contribute to the well-being of self and others. However, with the legalization of cannabis, it is important that we work together to prevent and/or delay the initiation of cannabis use by youth and to promote healthy decision making.
Youth are especially vulnerable to the effects of cannabis because brain development is still occurring until about age 25. Cannabis use can lead to problems that impact memory, learning, attention, judgement and decision making. Proper education about cannabis and substance abuse, and equipping your child with the skills and competencies to make responsible decisions is a crucial preventative measure.
We, together, are uniquely positioned to equip students and your child with credible, accurate information about cannabis.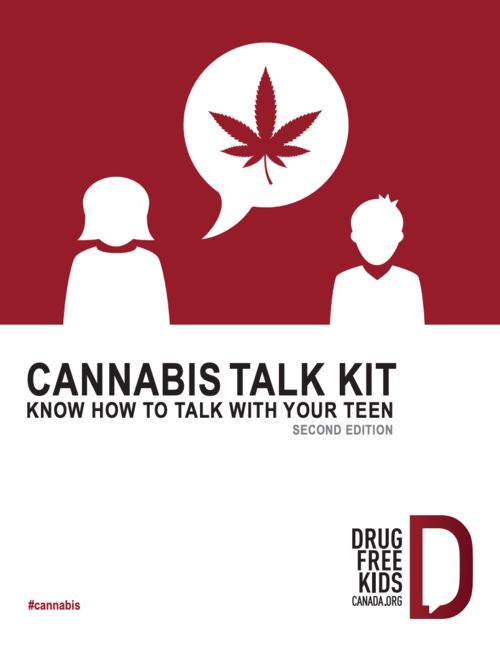 DrugFreeCanada.org
TOOL KIT: HOW TO TALK WITH YOUR TEEN ABOUT CANNABIS
Wondering about how to start the Cannabis Talk with your kids?
Talking to teens about cannabis can be tricky.
It can be challenging to know how they'll react or what kind of questions they might have – especially now that cannabis is legal.
But talking about cannabis is an important part of attempting to delay its use as long as possible, in order to avoid the harmful effects it can have on developing brains.
When it comes to the cannabis talk, it's best to be prepared.