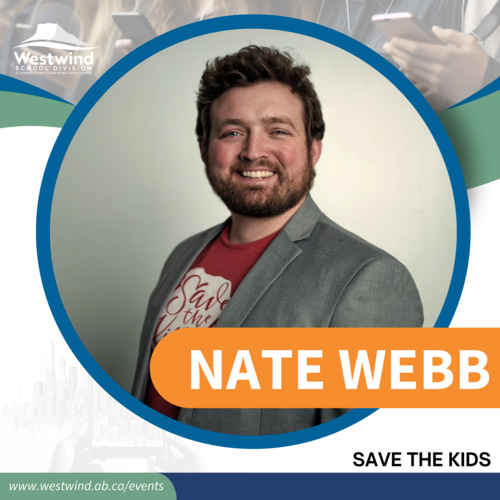 UPDATED: October 18, 2023. Please see below for resources from Nate Webb's recent parent session!
Several years ago, we had the privilege of hosting Collin Kartchner, the founder of Save The Kids Foundation, in our division. Collin's message, rooted in love, positivity, and his unwavering belief in 8-second hugs, left a permanent mark on our community. He ignited a movement and encouraged us to create screen-free memories and safe spaces for all kids and teens. 
This October, Westwind School Division warmly welcomes Nate Webb, a distinguished bully expert and resiliency trainer, to carry forward Collin's legacy. He will host several parent and student assemblies and share his personal and professional insights, helping our #TeamWestwind community navigate a tech-heavy world with resilience and love. 
Partnering with the Save The Kids Foundation, Nate brings a background as a professional school counsellor and a certified digital safety educator and his own story of resilience and courage. As a child, he faced relentless bullying, with social media and bullies pushing him to the brink. But Nate chose to rise, transforming his painful experiences into a beacon of hope and a source of empowerment for others.
Bullies Be Gone