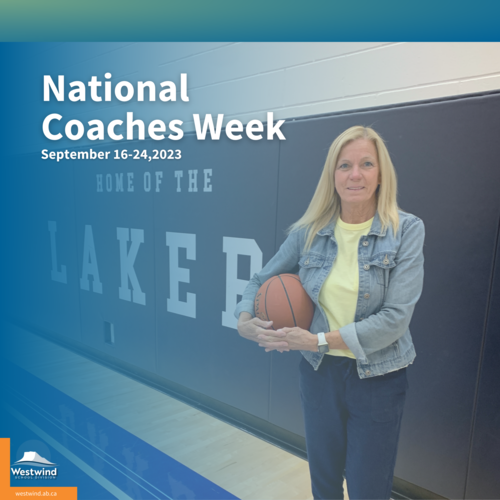 As we celebrate National Coaches Week, we are thrilled to spotlight an extraordinary coach within #TeamWestwind: Donna Branch. Her commitment to excellence, both on and off the court, has shaped champions and transformed lives in Westwind.

Donna's 40-year coaching career is filled with success and inspiration. A former player herself, Donna's basketball journey began in high school and continued through four university years, split between Lethbridge and Calgary. She even played for the junior national team and participated in numerous international games.

But Donna's most significant impact has come from the sidelines, where she's dedicated herself to coaching girls' basketball. Her coaching journey started at 23, taking her through various elite programs, Alberta Basketball and Canada Basketball. During her career, she's had the opportunity to coach on the global stage, including destinations like Brazil, the Canary Islands, Thailand, Chile, and Puerto Rico.

Working with the varsity girls basketball team in Stirling for the last ten years, Donna has been more than a coach; she's a teacher, an academic advisor, a mentor, and an inspiration. Her five provincial banners in the Stirling gym testify to her success.

More than her victories, Donna's profound impact on her students' lives sets her apart. Focusing on character building, relationships, and mentoring, she has made a lasting difference in the lives of over 600 girls she has coached, including many Stirling students.

Her advice to new coaches emphasizes mentorship and character development: "Be there for the right reason, be yourself, and know that you are a mentor and role model to your players."

Donna's story is a testament to the power of coaching, not just as a game strategy but as a life philosophy. Her dedication to her players' growth, both on and off the court, exemplifies the essence of National Coaches Week.

Don't forget to recognize the coaches in your life this week!