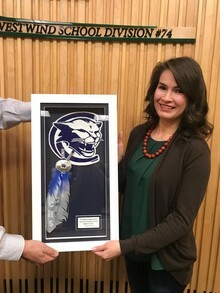 Dr. Tiffany Prete, a member of the Blood Tribe of the Blackfoot Confederacy and a Cardston High School Alumni, wanted to give a gift to Cardston High School that would not only show her gratitude but also help Aboriginal students feel more accepted and welcomed in their school.
Dr. Prete has recently finished her Doctor of Philosophy degree in Indigenous Peoples Education at the University of Alberta.  While working towards her Doctorate, Dr. Prete completed a research study at Cardston High School that examines Alberta Education's mandated First Nations, Metis and Inuit Policy Framework.
After completing her research project, Dr. Prete was very grateful Mr. Ken Sommerfeldt and Mr. Dallen Leavitt, (who served as the school principal while she undertook this research study), for allowing her to complete her project at CHS and helping the project run smoothly. She wanted to find a way to thank them and the students who participated in the study.
"In my culture, we live by the law of reciprocity, that is, to give something in return when something is bestowed upon you," Dr. Prete explains.  "Mr. Sommerfeldt and Mr. Leavitt gifted me with the use of the Cardston High School and its students, in order for me to conduct my doctoral research. The students also gifted me with their participation in this research study. In return, I wanted to gift the school with something that I hope will be meaningful and will serve as a reminder of the continuing partnership that exists between Westwind and its First Nation students."
During Dr. Prete's study at Cardston High School, an Aboriginal participant from the study shared with Dr. Prete how important it is to have Aboriginal art or artifacts present in the school, as it helps Aboriginal students to feel more accepted and more welcomed in the school. With that in mind, Dr. Prete spent over a year working on a custom beaded art piece to gift to CHS. "I hope that this gift will have this exact effect on its Aboriginal students; that they will feel accepted and welcomed as Aboriginal people in their school."
Dr. Prete would like to thank Westwind School Division for joining her and supporting her on this incredible journey. 
Dr. Prete presented her gift to CHS Principal Mr. Austin Nunn, Trustee Anna-Joyce Frank, and Superintendent Ken Sommerfeldt on December 5, 2017.