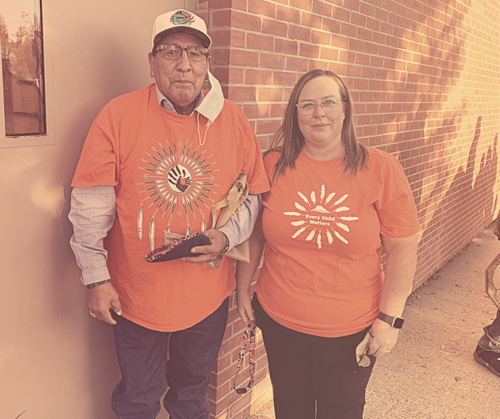 The new National Day for Truth and Reconciliation, to be held annually on September 30 is to honour survivors, their families and communities, and ensure a public commemoration of the history and legacy of residential schools. This day coincides with Orange Shirt Day, which carries a critical message: that every child matters. 
All Westwind School Division schools will be closed on September 30 in honour and recognition of the National Day for Truth and Reconciliation. Our schools are spending time this week focusing on activities and learning designed to raise awareness of the impact of residential schools. We encourage our Westwind families to use the resources provided below to review what students learned this week about Truth and Reconciliation and Orange Shirt Day.  
Our division is committed to standing with First Nations, Métis and Inuit teachers, students and communities to honour those who survived and those who did not return home. The legacy of residential schools is painful, and we recognize that the atrocities suffered in those schools affect Indigenous people, families and communities to this day. As we work together to focus our efforts on understanding and reconciliation-related initiatives, we hope to build respectful relationships within our communities to further understanding and healing.
Resources
Nunn Talks Podcast: Truth & Reconciliation (Guest: Jennifer Scout)
National Centre for Truth and Reconciliation 
We Were Children (video)
National Film Board: Sisters and Brothers
Namwayut: We are all one (video)