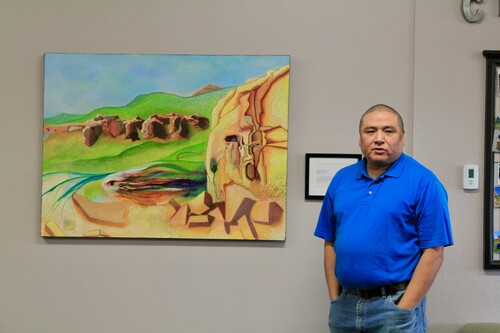 On November 23rd WAS hosted a celebration luncheon which included invited guests from the division's central office as well as School Board Trustees. At this event, Mr. Grant Spotted Bull, an Artist in Residence at WAS, unveiled his recent painting and presented it to the Alternate School. The painting is number 5 is a series entitled, 'Spirit Speaks'.
"This painting came to me in a dream many years ago. This part of the journey takes in Writing On Stone Provincial Park... My focus was two fold, one to include geographical areas that are spiritual in nature to the people of the Blackfoot. Two, to invite the viewer to take the time to observe the subject matter, and begin to see what images emerge".
In reflecting on this beautiful painting, School Principal, Mr. DeVuyst, commented that, "Not only are we delighted to have Mr. Spotted Bull on staff at WAS in this very innovative mentorship role for students... but now to have this very exceptional painting to display at our school is just fantastic as it offers a further cultural bridge and connection with respect to our local communities".
Grant Spotted Bull Painting 2018