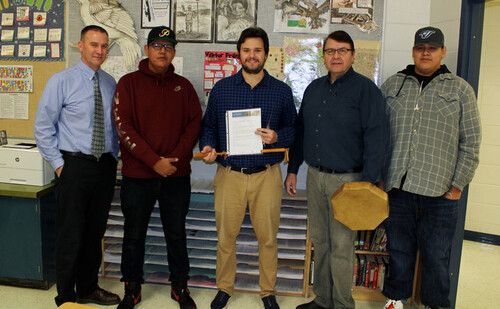 Jarett Zentner, a student-teacher at Cardston High School, probably didn't realize the impact he was having on his students this semester until an Eagle Feather was presented to him in a very special ceremony this morning.
Gary Fox, Family School Liaison Counsellor at CHS, spoke during the ceremony about how Mr. Zentner has cared deeply about his students this semester and often looked for ways to meet their individual needs and better connect with them. His efforts clearly did not go unnoticed, as four students approached Mr. Fox recently to tell him about the impact that Mr. Zentner was having on their lives and express their desire to honour him in a special way.
Truman Bottle and Kodie Mountain Horse presented Mr. Zenter with an Eagle Feather as a token of their respect and gratitude for his work with them this semester.   The presentation of the Eagle Feather is a sign of great achievement in the First Nations Culture.  It is actually illegal for a non-First Nations person to possess an eagle feather,  so the feather must always be presented with a verification letter that entitles a non-First Nations person to keep it.
Truman and Kodie also presented Mr. Zentner with a drumstick. The sound of the drum is very important to First Nations people as the drum is used during several ceremonies and is meant to sound like Thunder.  Through the presentation of the drumstick, the students were expressing to Mr. Zentner that he is a part of the drum group and one of their brothers. 
We are grateful for Mr. Zentner and his commitment to his students and his connection with them and we wish him success in his future career as an educator.  We have no doubt that he will impact the lives of many more students.