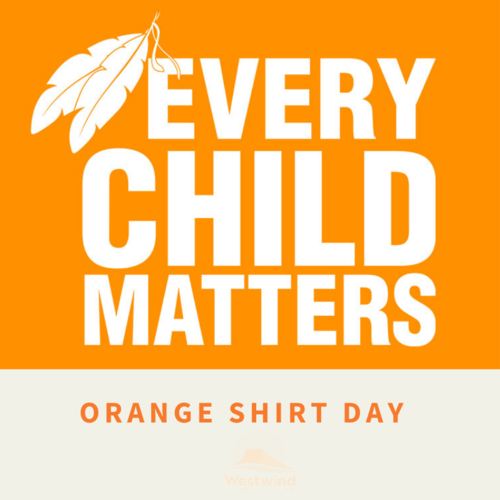 Westwind School Division is looking forward to recognizing Orange Shirt Day on September 30.
Orange Shirt Day, held annually on September 30, is a day to acknowledge those affected by residential schools and share the important message that every child matters. 
From the 1880s until the last school shut down in 1996, Canada's residential school system forced about 150,000 First Nations, Inuit and Metis children to attend church-run facilities where they faced widespread neglect and abuse.  
Phyllis Webstad, a residential school survivor, organized Orange Shirt Day to acknowledge the harm that Canada's residential school system has left in generations of indigenous families and their communities. When Phyllis was six years old in the 1970s, she was given an orange shirt by her grandmother for her first day of school at St. Joseph's Mission residential school in British Columbia. When Phyllis got to school, all of her clothing, including her new orange shirt, was taken away.  To Phyllis, the colour orange has always reminded her of her experiences at residential school and, "how [her] feelings didn't matter, how no one cared, and [she] felt like [she] was worth nothing." Orange Shirt Day was created to show reinforce the idea that EVERY child matters.
Orange Shirt Day has become an opportunity for First Nations, Métis and Inuit; local governments; schools; and communities to come together in the spirit of reconciliation and hope for generations of children to come. We strongly encourage all of our #TeamWestwind staff and students to show their support for Orange Shirt Day by wearing orange on September 30.  
Additional Resources
Society for Safe and Caring Schools 
Namwayut: We are all one (video)