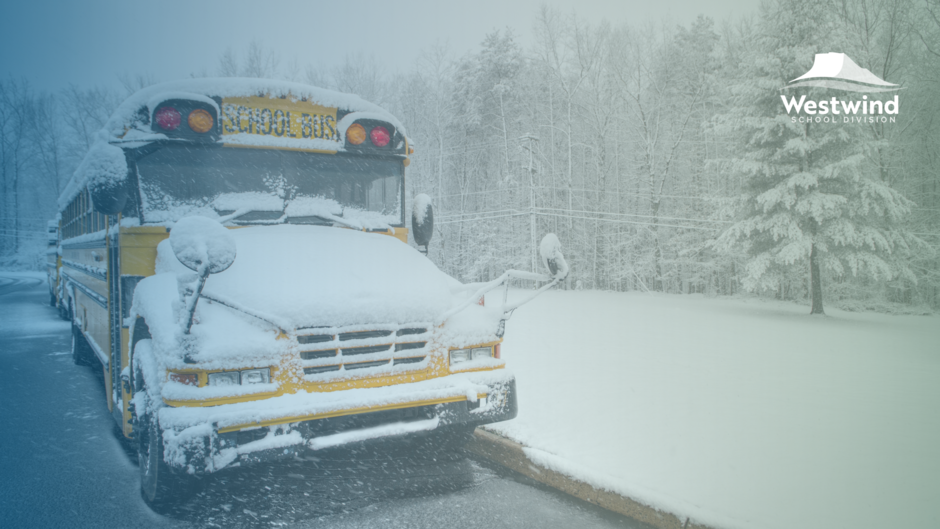 In cases of extreme weather and unsafe road conditions there may be a need to cancel bus service.  The bus driver will communicate their assessment of the situation to the Director of Transportation, the Superintendent and Principals of the local schools. A decision as to whether all bus routes, specific routes and/or portions of specific routes should operate for that day.  If this were to happen you would be contacted by either your bus driver, fan out, or the School Messenger phone out system.  You can also access this information by checking the website at westwind.ab.ca/buses/bus-status
If it is the decision to cancel all routes for your area we would then put that information on our social media platforms. This decision should be made at a sufficiently early hour in the morning to get the information out.  
If the school needs to send students home early due to extreme weather/unsafe road conditions during the school day, the bus drivers are to communicate their assessment of the situation to the Director of Transportation and the Principals. If the decision as to whether or not bused students will be sent home early you will receive a phone call from the school advising you that your student will be delivered home early.  Students shall not leave the school before a safe place for the student is established and that this information is communicated to the parents/emergency contact.  Parents can view route cancellations by checking the website.  
PROPER WINTER ATTIRE
All students riding on a school bus during the winter months shall be required to be prepared for unexpected severe weather conditions.  The student shall carry with them appropriate winter footwear, outerwear, headwear and gloves/mitts.