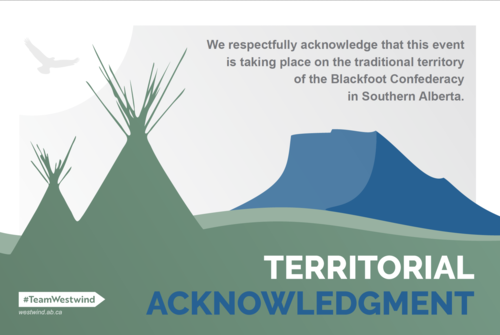 Westwind School Division's Land Acknowledgement
A poster of the Westwind School Division Land Acknowledgement is available HERE.
"We respectfully acknowledge that this event is taking place on the traditional territory of the Blackfoot Confederacy in Southern Alberta" 
What is a Land Acknowledgement?
A Land Acknowledgement is a formal statement that recognizes the relationship that exists between First Nations, Metis, and Inuit Peoples, and their traditional territories. 
Why do we recognize the land?
Recognizing the land demonstrates gratitude, respect and appreciation to those who have lived on the land for generations and continue to do so, as well as honours the Indigenous people who have a long-standing relationship with the land. 
When Should I Use a Land Acknowledgement?
Acknowledging territory can be performed at any important function such as a school assembly, awards night, graduation, or celebrations that include First Nations communities. Acknowledging the land is usually the first item on the agenda, and is included in the opening remarks.