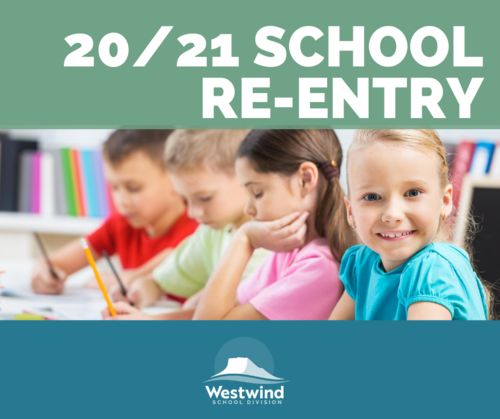 An announcement from the Government of Alberta, Alberta Health Services, and Alberta Education on July 21, 2020, has indicated that Alberta School Divisions, including Westwind School Division, will be entering School Relaunch Scenario 1 when classes resume this fall. This means that our students, families, and staff can expect near-normal operations with many health measures in place.
Under scenario 1, schools across the province will implement a number of public health measures, which include frequent cleaning of surfaces, placing hand sanitizers at school entrances and classrooms, grouping students in cohorts, and planning the school day to allow for physical distancing, which may include staggering start times for classes, recesses and lunches. In addition, students, staff, parents and school visitors will be expected to use a self-screening questionnaire daily to determine whether they can enter the school.
Westwind School Division is very excited to be welcoming students back into our schools on August 31, 2020; however, we also appreciate that many concerns exist about having students back in schools during this time. 
We want to make it clear that the safety of our students and staff is paramount. Westwind is committed to following both Alberta Health's and Alberta Education's guidance. While this school year may look different from others, we are confident that the plans, procedures, and protocols we've put in place will ensure a safe learning environment for all.
The guides and information linked below have been developed to support the safe re-entry to school for the 2020/2021 school year within the direction provided by the Minister of Education and Alberta's Chief Medical Officer of Health. We encourage all families to review this information carefully, but also to be aware that these plans will continue to be updated as we receive new information.
School Re-Entry Plans are available on every school website. Families should continue to visit their school websites for updates and contact their school Principals with any questions. 

 We understand that due to health concerns and parental choice related to the pandemic, families may choose not to have their child attend their designated school. If you are considering not returning to your designated school in the Fall, please CLICK HERE to help us plan and better understand your concerns and learning needs. Please complete this survey by August 21, 2020.
We are in this together; everyone in our learning community will need to play their part and follow the protocols outlined in this guide. We look forward to welcoming students back to the classroom in a few short weeks.
Additional Information
The Alberta government has developed a re-entry tool kit to prepare parents and students for what to expect in the new school year and we encourage our families to review it carefully. The tool kit includes videos for students explaining some of the health measures, a guide for parents, frequently asked questions, school posters, a self-screening questionnaire in multiple languages, and links to health guidelines. The government has also provided a 2020/21 Parent Guide which contains steps parents and students should follow to reduce the risk of COVID-19 in schools.
We will be providing more information as it becomes available. We look forward to seeing our students on August 31, 2020! Please continue to review the Return to School FAQ section of our website for updated information.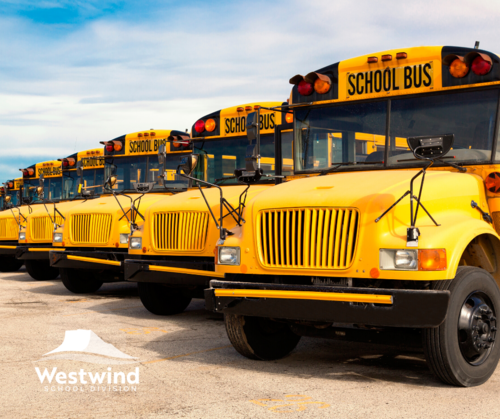 Bussing and Transportation
As one can imagine, ensuring students remain physically distanced on school buses is a significant challenge. 
Westwind School Division continues to make preparations for the upcoming school year as information from Alberta Education becomes available. Based on feedback from our recent parent/guardian survey, it is clear that we are all hoping for a standard return to school in September.  As our students' safety is our top priority, we are making some necessary adjustments to our transportation services based on direction provided in re-entry requirements set by the Alberta government. 
Effective September 2020, Westwind School Division will only be providing bus transportation to/from school for students who reside farther than 2.4 kilometres away from their designated school.  For the foreseeable future, as we continue to deal with the challenges of COVID-19, we will no longer be able to accommodate bussing students within the 2.4-kilometre boundary. 
We appreciate our Westwind families' understanding and patience as we seek to adapt to our current health climate and follow all necessary social distancing guidelines to ensure student safety. We strongly encourage parents with students within the 2.4-kilometre boundary that usually ride the bus to use the summer months to make alternate transportation arrangements for their students for September. We understand that this situation is not ideal and may cause inconvenience for our families, and our sincere hope is that this arrangement will be temporary. We plan on implementing our new transportation procedures announced earlier this spring as COVID-19 cases subside and as social distancing guidelines relax in the coming months.
PLEASE NOTE: Westwind's Inclusive Education team will continue to address transportation needs based on the special needs student assessment.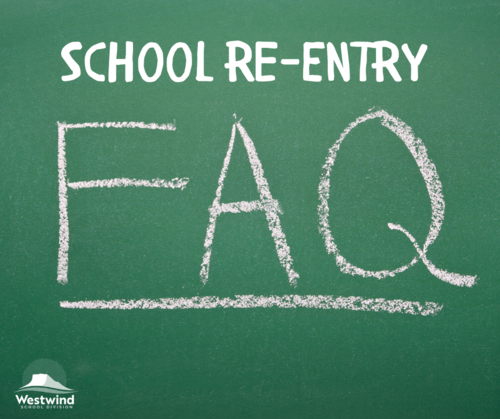 Frequently Asked Questions
CLICK HERE to access frequently asked questions our families, students and community members may have regarding Westwind School Division's plan to reopen schools for the 2020-21 school year. If you have any additional questions, please submit them HERE.